High Street Pedestrianisation Update!
High Street Pedestrianisation Update!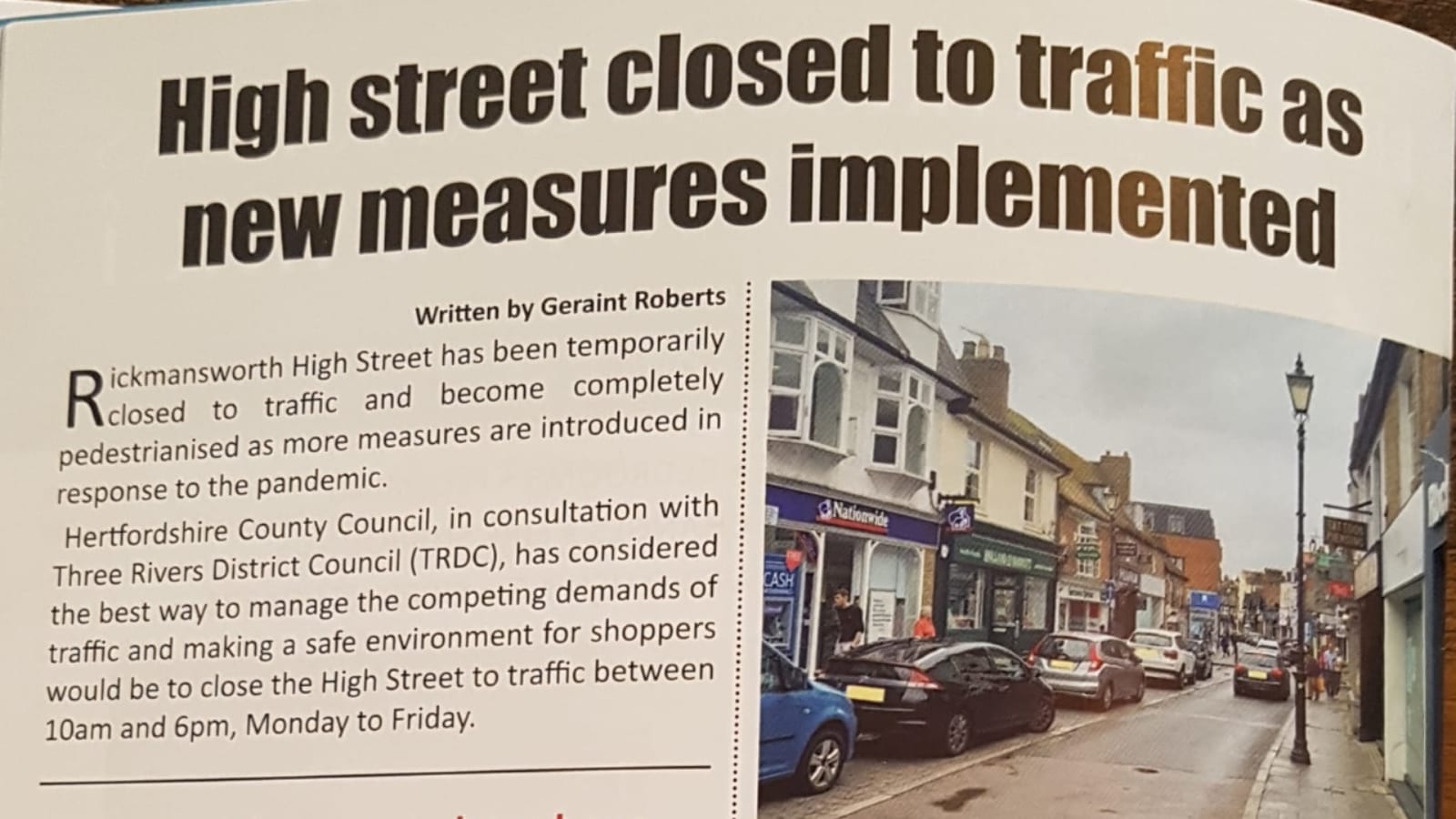 The eagle-eyed amongst you may have noticed the attached article from the current "Rickynews" free magazine that should have landed on your doormat earlier this week regarding the temporary COVID related pedestrianisation of part of Ricky High Street.
We have emailed Rickynews to ask why our section of the High St has been excluded from the pedestrianisation scheme (email address at bottom of the piece) highlighting that
"Whilst we applaud the new COVID related restriction introduced in part of the High Street we are at a loss as to why the section between Parsonage Road and Station Road has been excluded. Surely if the measures are in response to the pandemic they should extend to ALL of the High Street?"
And 
We have also started a paper petition and an e-petition (on the Three Rivers Council website) calling for the permanent pedestrianisation of Rickmansworth High Street from Church Street/Northway to Parsonage Road. So far these have attracted around 400 signatures supporting this proposal.
We have support from our neighbours at Cafe 122 and Sinclair Gallery and it seems that Rickynews may come to interview us for the next edition!!
We would encourage any Wishfullers who feel strongly about this issue to drop a quick line to Rickynews as well. If there is a COVID threat in the High Street then surely, it's in ALL of the High Street. And if the Penny V bus can be diverted surely the Fox and Hounds bus can be diverted too… Let's be bold! Let's do this!!
PS If you agree that we need to take decisive action now please take a few minutes to sign the pedestrianisation e-petition on the Three Rivers District Council website https://my.threerivers.gov.uk/
MON - FRI
12:00pm - 09.00pm
Saturday
11:00am - 09:00pm
Sundays
12:00pm - 09.00pm
Address
124, High Street, Rickmansworth,
Hertfordshire, WD3 1AB