Meet the Brewer Review – Mad Squirrel
Meet the Brewer Review – Mad Squirrel
Last Monday evening (17th February) saw the latest in Wishful Drinking's "Meet the Brewer Beer Tasting Events",  this time we invited our very good friends from just outside Hemel Hempstead, Mad Squirrel.
Hosted by the ebullient Tim Hickford – Mad Squirrel's Brand Ambassador – the audience of around 30 enjoyed four very different Mad Squirrel brews.
Tim guided the very enthusiastic and even more thirsty ensemble through the history of the Mad Squirrel brewery, the brewing process and the unique approach Mad Squirrel has to craft beer. There were several energetic interventions from the audience to test Tim's in-depth beer knowledge with a variety of subjects raised ranging from Alaskan beers to why can't we get any more Hoodwink!!
But the real purpose of the event was to taste the beer and what a selection there was. Tim's spoke eloquently about each:
Sapling a subtle soft 4.8 % West Cost IPA
Roadkill  a full bodied opaque squishy 6.5% IPA
Shrub Life a  4% bramble sour
AND top of the house;
Indulge a 10% Pecan and Maple imperial Stout
Accompanied by a selection of finger foods and with six beers on tap and with six craft ciders in the cellar  and our usual array of bottles and cans, there was definitely something for everyone's taste.
Wishful Drinking will be holding regular Meet the Brewer Beer Tasting Evenings in the coming weeks with the current roster looking to include:
Three Brewers
Tring Brewery
Marble
Popes Yard
Creative Juices
Follow us on Untappd, Facebook. Twitter and Instagram to keep up to date with the dates and brewers involved and contact us quickly as tickets to these informative, fun and entertaining evenings are always in demand – always going quickly.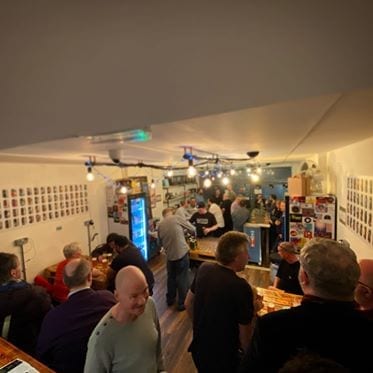 MON - THURS
10:30am - 10.00pm
Friday / Saturday
10.30am - 11:00pm
Address
124, High Street, Rickmansworth,
Hertfordshire, WD3 1AB