The Quest for the Best in a Lockdown… a Silver Lining to the Cloud?
The Quest for the Best in a Lockdown… a Silver Lining to the Cloud?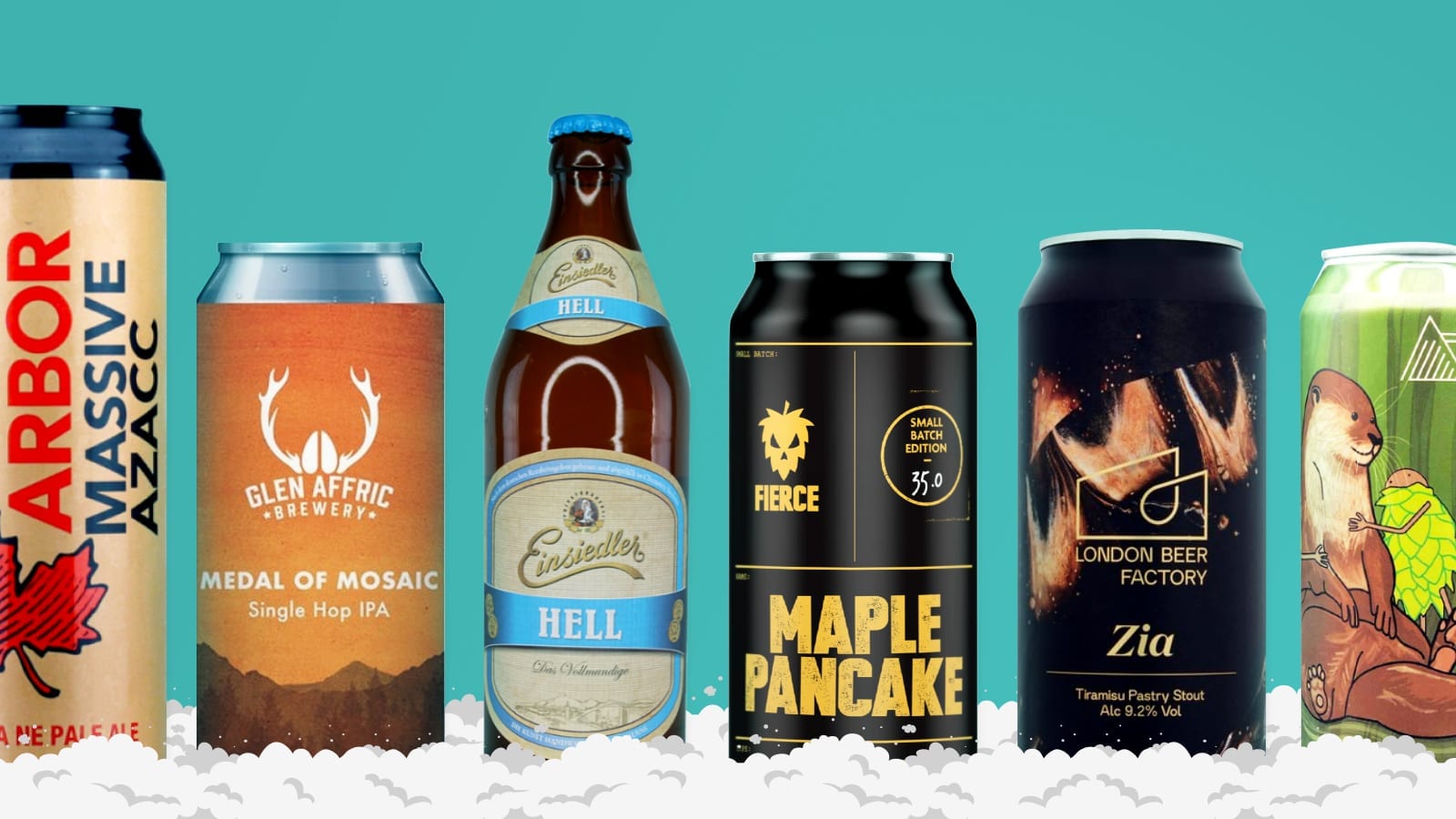 Strictly speaking of course, a lockdown should not really affect our raison d'etre at Wishful which is, quite simply, to seek out the best beers from the best brewers and to bring them to the attention of Wishfullers who may then love or hate our choice of brews… one man's meat and all that.

But lockdowns bring a subtle difference. We sell many more bottles and cans when the tables and chairs are put away. With around 180 (and growing) brews on the shelves and just six on tap Wishfullers are trying many more styles and types of beers as compared to when we have the pumps purring as we pour perfect pints. Our turnover of bottles and cans goes up dramatically, supply options go down as everyone and their bearded bar person chase ever dwindling stock of "packaged" beers. So, we have to try harder to seek out The Best bottles… The Conquering cans.
After that dramatic build up what have we got for you that's new and good in bottles and cans for Lockdown Week 1? Now, we can't go through ALL of the new beers we have put on the shelves this week – there are more than 25 of them so far. So let's focus on just 10 of the beauts which will hopefully whet your appetite for something deliciously different.
Let's start then with something special from Odyssey Brew – All Amongst the Barley 7.2% 750ml bottles (two barrel-aged versions – Laphroaig and Auchentoshan). Odyssey produced a simple pale wort with aged hops from a local hop farm, fermented with an expressive English Ale Yeast. The resulting beer was transferred to Ross on Wye Cider & Perry Co's used Whisky barrels to undergo secondary fermentation on the cider lees (cider dregs effectively!!) and then lightly bottle conditioned. The final beer is a unique meeting point of brewery, cidery and barrel, capturing the spirit of both producers and truly expressing their shared home – Herefordshire. Just unique – we ordered as many as we could….so that's six of each in stock!
And then we have three stonking new brews from one of our all-time favourites Pollys Brew.
Informal Edits – 6.7% IPA. Smashes together the classic old school bite of a west coast IPA with the soft, pillowy juice of a NEIPA for a hybridised IPA that carries the qualities of both. Has super soft juicy notes to boot, with maximum drinkability in mind.
Humming Error – 5.2% Pale. Expect a swagbag of juicy mango and passionfruit notes from Citra and Mosaic, but with the addition of Loral hops a ton of zingy lemon citrus notes come to the fore; accentuating the drinkability of this incredible pale ale.
Simply The Manifest – 5.2% Pale. A hybridized new/old school style brew, with a hop lineup of Chinook for pithy grapefruit, pine and resin notes playing off loads of mango, passionfruit and tangerine notes from new school stalwart, Mosaic. A pale ale perfect for creating good times in these most challenging times.
Next up a quick mention of a rival (at last!!) to the fabulous Looper IPA which is probably your overall favourite can Wishfullers, judging by how often we have to re-order (good news, two new cases arrived today!!). It's the beautiful Back-Up Plan 6.7% IPA again, from the fabulous Full Circle Brewery. It has an aroma of freshly cut pineapples originating from BRU-1 hops, with strong citrusy flavours of tropical fruits and a hint of peach. Enjoy a voluptuously velvety mouthfeel as you sit back and enjoy this sublime IPA.
Now, let's talk stout!! As winter draws in you will see the shelves starting to fill with more and more soft and subtle, dark and drinkable stouts – but we will keep a few lagers knocking about, promise!! And to kick things off we have two 10.4% Imperial Stouts from Moncada both weighing in at 4+ on Untappd.
Impy Pudding – If only this was on the school dinner menu when we were at school! A full-bodied rice pudding imperial stout with flavours and aromas of Vanilla, cinnamon, rice pudding, nutmeg and cocoa, with a full mouthfeel and smooth finish.
Impy Custard – A full bodied imperial stout with flavours and aromas of Vanilla and cocoa, with a silky mouthfeel and mellow finish. This brew proves that high ABV, sweet stouts can offer light and easy drinkability. 
And to finish two unusual fellows to test your spirit of adventure
All Gose South – 5% Sour Kiwi from  Fierce & NZBC This is when a traditional Gose meets the southern hemisphere and good things happen. Additions of salt and coriander before dialling things up by loading in kiwifruit to create a fresh, tart kiwi sour with a hint of tropical sweetness. 
Peanut SQURL – 5.2% Peanut, Chocolate, Vanilla Porter from Fierce. All these things in a beer. Yes!! And it sounds amazing, right? Well just wait until you try it!!
And here is the Silver Lining that lockdowns bring. We are compelled to get out of the comfort zone and find new beers as the shelves start to yawn with ever-multiplying stretches of emptiness. We go from needing a decent handful of news beers a week to a barrowful! So, the Quest for the Best accelerates…..new beers, new tastes, new discoveries, new delight…… Wishful believes the Best is still somewhere out there and until it is found the Quest will never end!
Ps… Featuring Lockdown Week 1 New Bottles and Cans
Wander Beyond
Left Handed Giant
London Beer Factory
Zia – Stout 9.2%
Big Milk Stout – Stout 7.5%
Fierce
Maple Pancake – Pale 6.5%
Glen Affic
Medal of Mosaic – IPA 5.6%
Einsiedler
Arbor
Massive Azzac – New England Pale 5.4%
Rocketman – IPA 6.0%
Yakima Valley – American IPA 7.0%
Red Willow
Limitless – Pale 4.2%
Weightless – Pale 4.0%
MON - FRI
12:00pm - 09.00pm
Saturday
11:00am - 09:00pm
Sundays
12:00pm - 09.00pm
Address
124, High Street, Rickmansworth,
Hertfordshire, WD3 1AB