We Are Opening Again On 4th July
We Are Opening Again On 4th July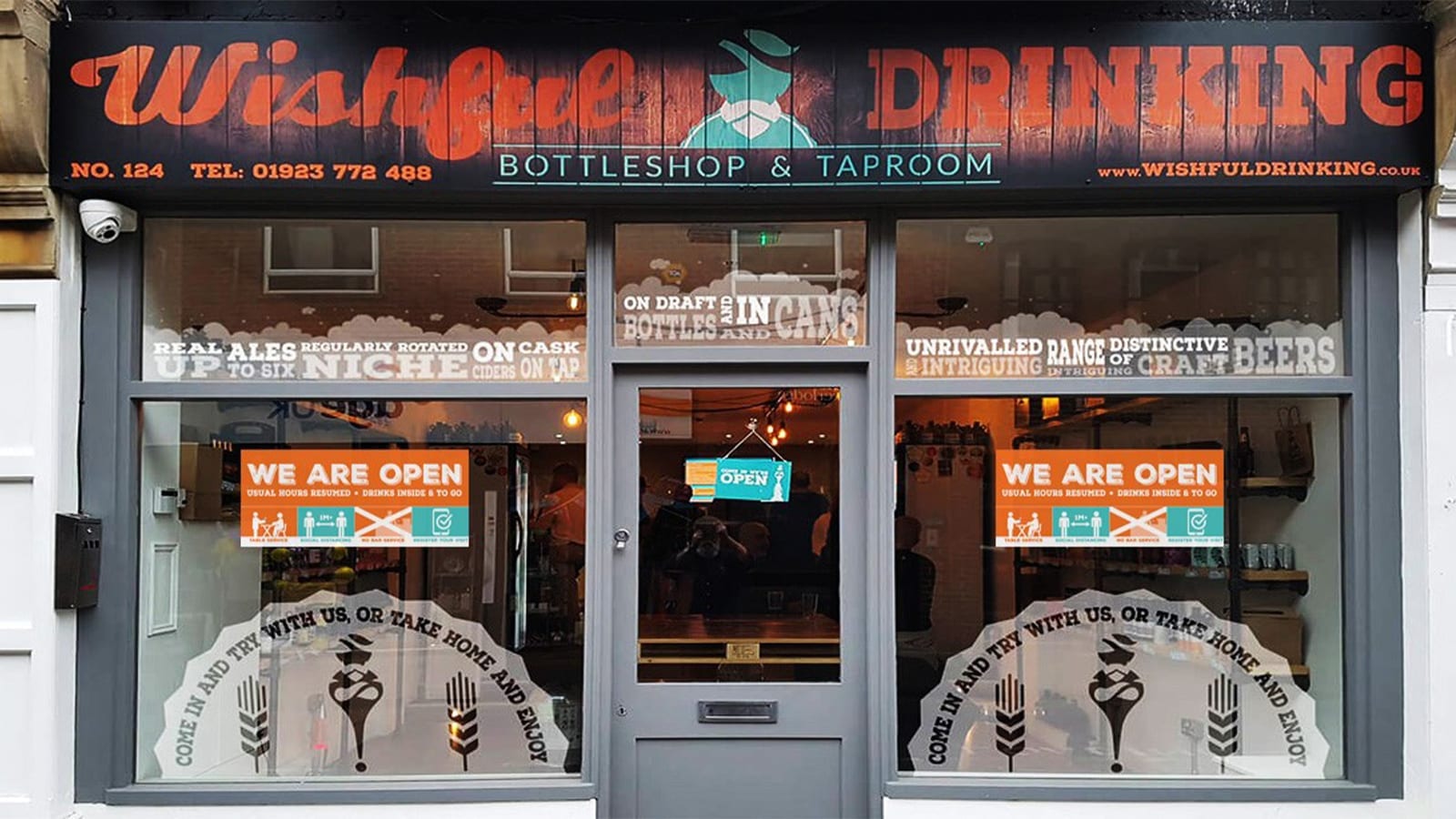 Wishful 
Re-

Open for 

Table Service

 and continue with 

Takeaway Service

 from 4th July
In line with recent Government announcements we are delighted to confirm that Wishful will be open for both takeaway bottles, cans and growlers off-sales and for table service on-sales (drink in) from Saturday 4th July.
Whilst we are happier than the dog with two tails to welcome you back through the doors for a brew with us, we all know that things have changed. Uppermost in our minds will be the safety, comfort and enjoyment of our customer and staff. So will we be adhering strictly to all Government guidelines to ensure everyone can enjoy themselves in an environment as secure and risk-free as we can make it.
You will see some significant changes to what you may be used to at Wishful as we move one step closer towards the the "new normal".
To give you some idea of what will be different we have prepared the following short guide:
All customers will be greeted on arrival and asked if they want to drink-in or buy takeaway bottles, cans and/or growlers.
Takeaway customers will be limited to 2 separate households at any one time and will be asked to walk around the shop within the one way "takeaway aisle" which will be clearly marked by floor tape and stickers.
Wherever possible takeaway customers:

Should face the shelves and fridges so their backs are towards drink in customers sitting at tables
Only pick up bottles and cans they intend to purchase
Exit via the rear door

Customers wishing to drink in will be asked for contact details and will be seated at a table.
There should be no more than two households at any table where the 1m+ social distance rule cannot be applied.
Drink in customers will be asked to keep their backs towards other customers were possible.
Drink in customers should not leave their tables and go to the bar. Drink orders will be taken by staff and customers will be served at their table with their drinks by staff.
All drinks will be served in fresh glasses.
Wherever possible customers should pay by contactless card rather than cash. We will be happy to run tabs to reduce the number of transactions required.
There will be hand sanitisers on all tables and elsewhere in the premises. All customers are encouraged to use the sanitisers regularly but particularly is if they touch any furniture, shelves door handles etc.
Wishful will employ enhanced, rigorous cleaning procedures throughout the premises during opening hours. In particular, staff will wash/sanitise their hands, clean the toilet and sanitise all surfaces, door handles etc on a regular basis.
The front and back doors will be kept open at all times to assist good airflow.
Wishful will revert back to the more normal opening hours (last orders for a drink in customers 30 minutes before closing time):

MONDAY –  THURSDAY 12.00am – 10.00pm
FRIDAY – SATURDAY 11am – 11:00pm
SUNDAYS 12am – 9:00pm
We hope you understand why we have made these changes. We will not be changing the atmosphere, our outlook or attitude, our quest to dring you just the best beer we possibly can or the way we approach each of you, you Wonderful Wishfullers!!
PS we are also not changing our "1 over the 8" loyalty cards on Growlers refills (+10% off) when taking out and on pints when drinking in!! Or our "buy six get the seventh free" offer on takeaway bottles and cans…..all 170 or so of them!!
MON - THURS
10:30am - 10.00pm
Friday / Saturday
10.30am - 11:00pm
Address
124, High Street, Rickmansworth,
Hertfordshire, WD3 1AB